Our School Council
Our School Council and Prefects play a vital role in ensuring the children at our school have a voice. They have meetings each half term with Mr Spedding and discuss plans for the upcoming term. The make requests and questions decisions to make sure the pupils at Beech Street get the very best possible experience from their Primary School. The School Council are coordinated by one of our dedicated teaching assistants - Miss Burbidge - who ensure the children are well prepared for their meetings.
School Council Meeting Minutes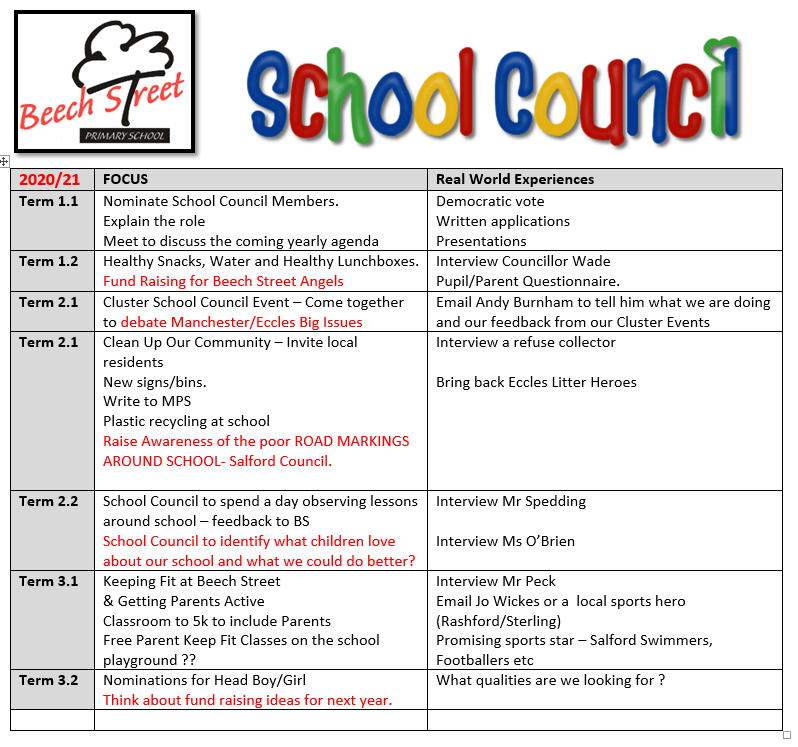 8/10/2020 : The children all voted for their school council in September. They met with Mr Spedding to be give their badges and told a little about their role in the school. The children were really excited and cannot wait to get started. The children will now meet in their bubbles and feedback to Miss Burbidge with ideas.
02/12/2020 - The children all met in the staff room in a socially distanced manner with Mr Spedding. We discussed how to drive forward our pledge to get 100% of children bringing water, not juice, to drink during the day before Christmas. We also discussed how and who the Beech Street Angels would be able to help during the Santa Run. The children suggested buying food (Turkeys, Christmas Puddings and sausages) for families in our communities along with helping homeless people in Eccles, Electricity & Gas,