To download our School Uniform 2019 Policy please click here
School Uniform
At Beech Street Primary school, we are proud to be at the heart of our community and we want all our children to feel part of that and to represent our school. Wearing full school uniform helps us to do this.
Children are expected to be in full school uniform every day.
Girls
The girl's uniform consists of: red sweatshirt with the school logo, red or white t-shirt or polo, grey skirt/pinafore/trousers, grey or white socks and sensible black shoes. In summer, girls may wear a red & white gingham dress.
Please keep girls hair tied back with grey or black hair bands/bobbles.
Boys
The boys' uniform consists of: a red sweatshirt with the logo, red or white t-shirt or polo, grey shorts or trousers, grey or white socks and sensible, plain black shoes.
It is important that even our youngest can learn to dress and undress independently, so various fastenings should be kept to a minimum.
PE Kit
A separate P.E kit is essential for all children. It consists of red shorts, white t-shirt and black pumps. Pumps are not needed during gymnastics and dance but must be worn for games sessions inside or outside. We recommend keeping the P.E kit in school all week and taking home for washing on a Friday.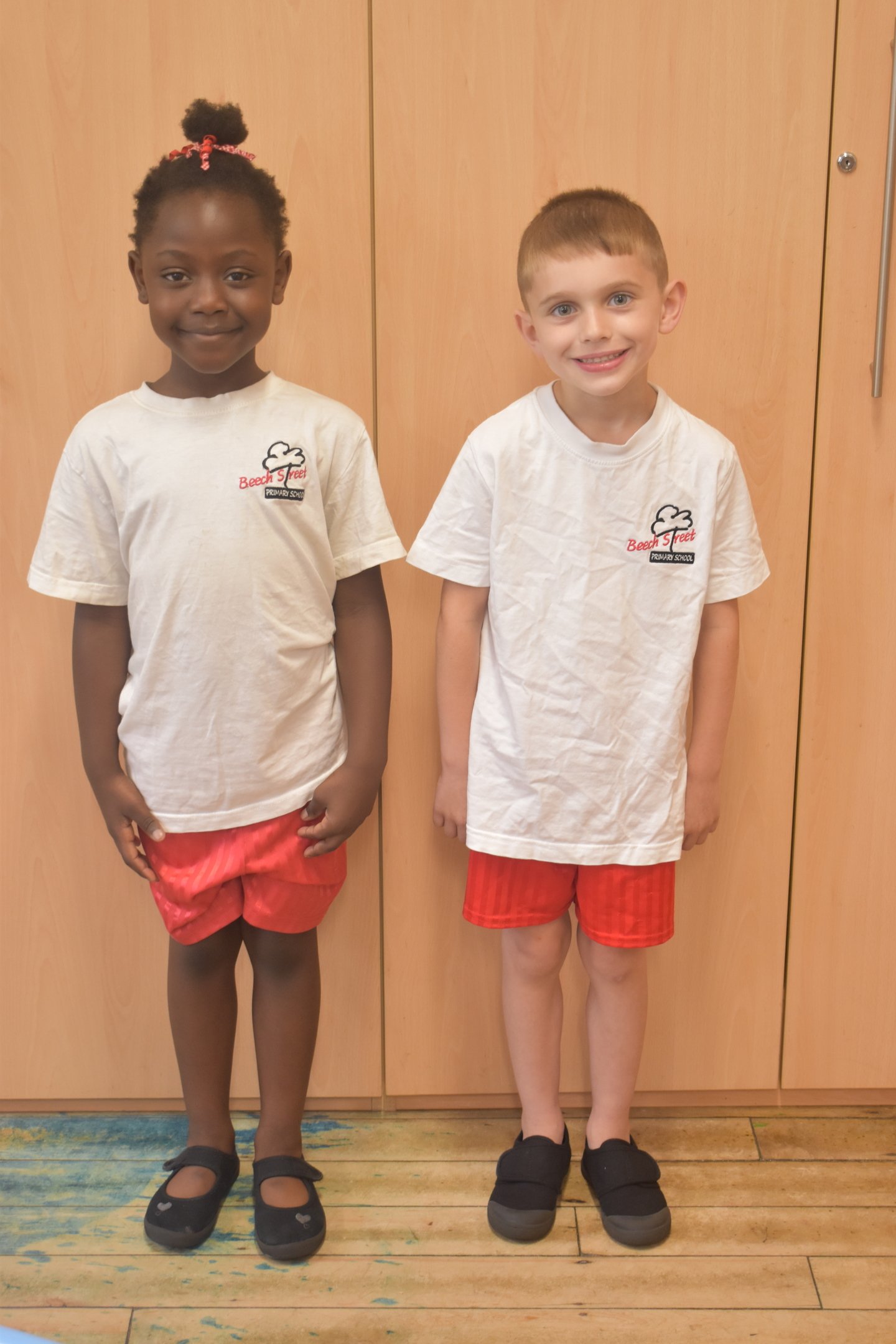 Swimming Kit
Pupils having swimming lessons must follow the dress code of the swimming pool they attend. For girls this is a single piece swimming costume and for boys a pair of trunks, not shorts. A swimming cap must be worn. A towel and waterproof bag is also required. If your child has a verruca, then you will be required to provide a verruca sock.
You can buy other useful items such as book bags and caps via our school office.
Jewellery in school can raise many problems and so only the following items are allowed: small studs, and watches.
Uniform Supplier
If you require a sweatshirt on which the school logo has been embroidered, they are available from Mollys in Walkden and from myclothing.com.
To those parents who prefer to buy their own jumpers we are this year trialling 'iron on' badges which are available from our school office.